Thank You
for participation in the Anfachen Award VII on the theme "Energy
On Thursday, June 1, 2023
the exhibition of the jury
will take place at the Frappant Gallery in Hamburg-Altona.
www.frappant.org
ANFACHEN AWARD VII
The Anfachen Award is given to posters that inspire aesthetically and create a stir.
THE TOPIC
Anfachen VII, too, is about the basics. This time we want to see how you perceive, interpret and artistically render the idea of Energy!
CONCENTRATED CREATIVITY
You are free to choose from which personal, political, aesthetic or formal angle you want to approach the subject of "energy". We accept photographic, painted, graphic and typographic works. With your participation you accept the following conditions.
PUBLIC
The 25 best posters will be selected by an international jury and will first be displayed in Hamburg. They will confront the public in busy streets and highly frequented squares, become a subject of discussion and reflection, and thus encourage a broad and sustained debate on the topic.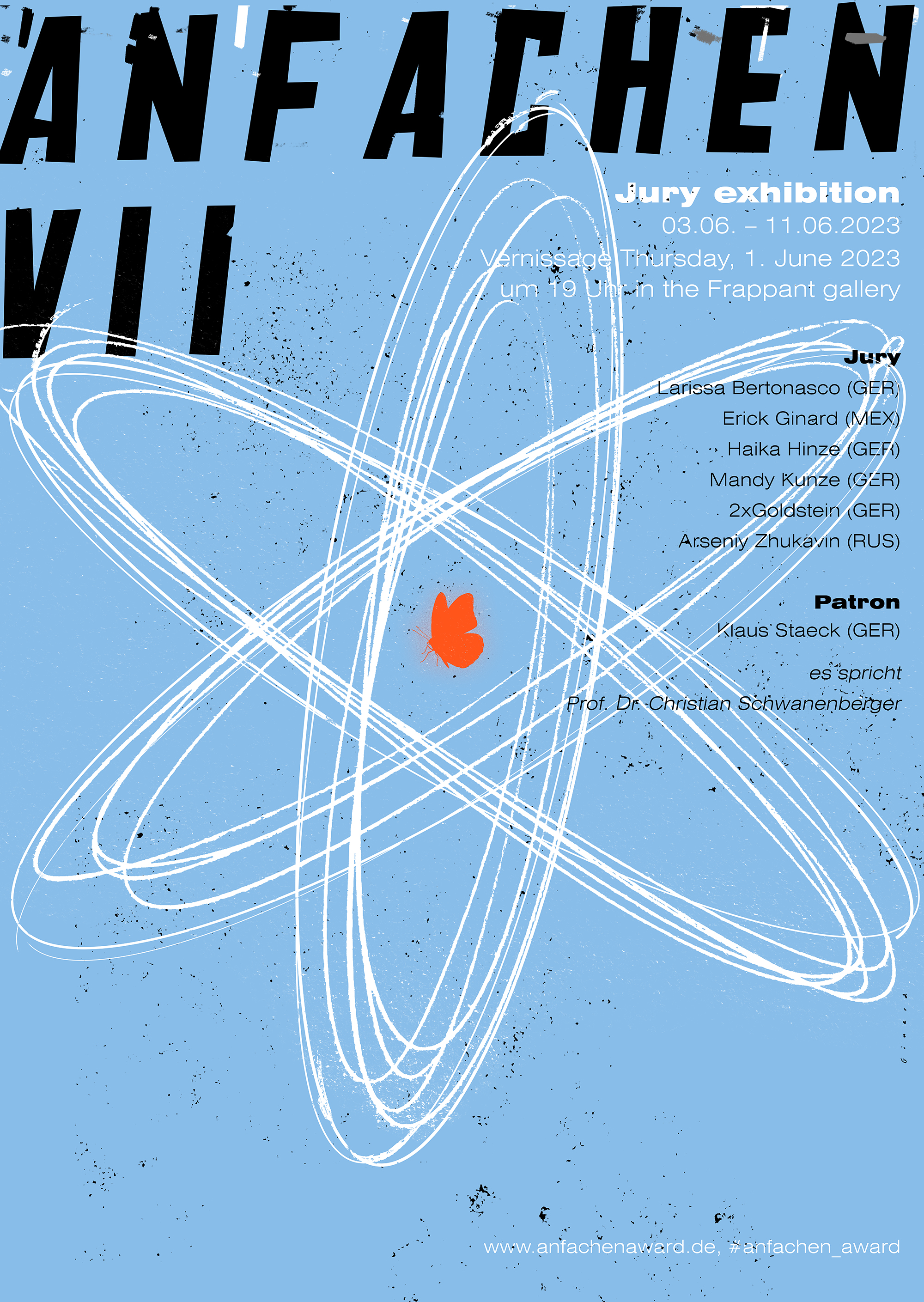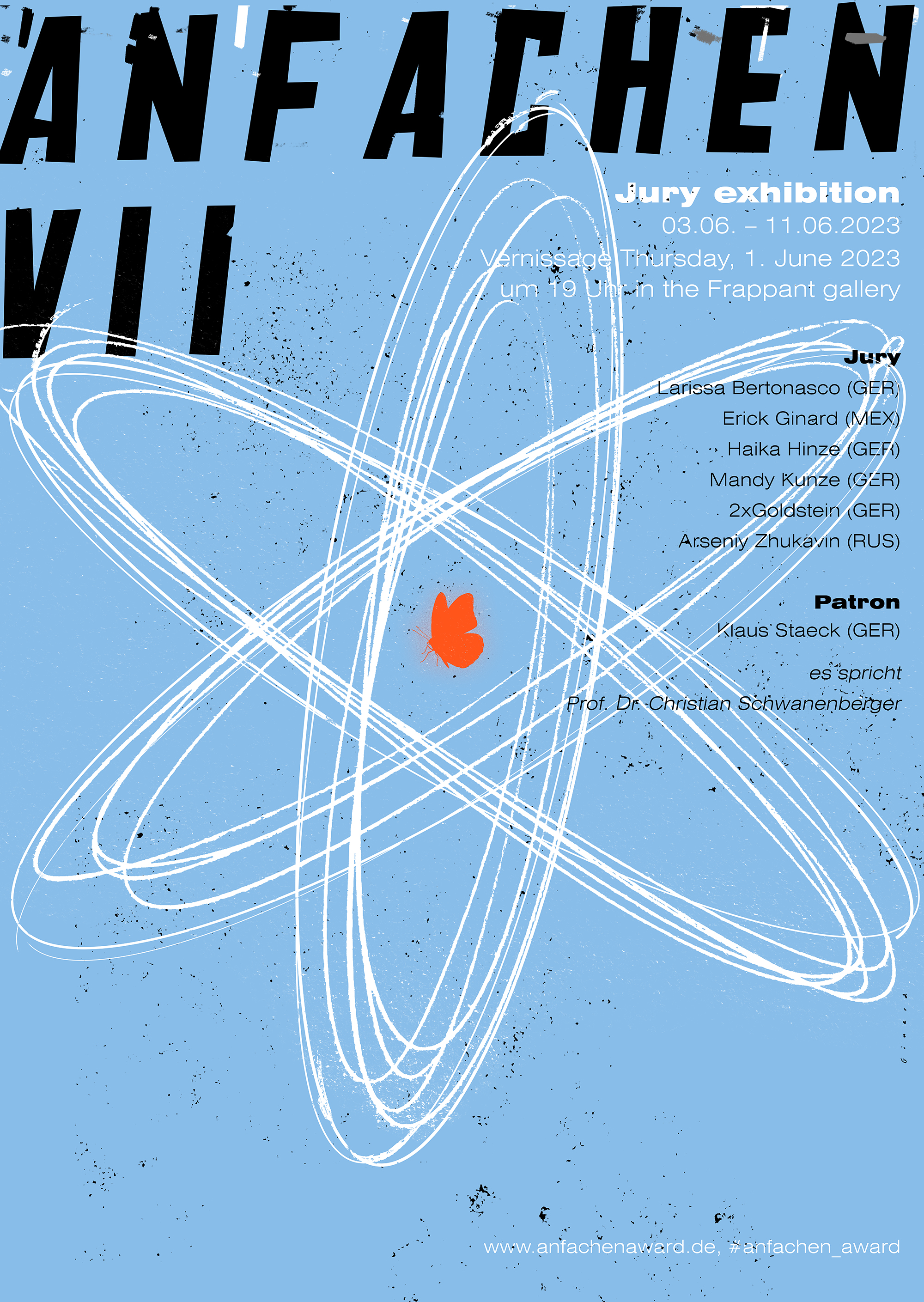 artwork © Erick Ginard
SCHEDULE
June1 Jury exhibition
June 28, 2023 Opening of poster exhibition in the streets of Hamburg (please monitor on website and social media).
from August 2023 posters can be shown worldwide if cooperation partners are found
Jury
Larissa Bertonasco (GER), Erick Ginard (MEX), Haika Hinze (GER), Zhiyi Liu (GER/CN), 2xGoldstein (GER),
Arseniy Zhukavin (RUS), patron: Klaus Staeck (GER)
PREVIOUS PARTNERSHIPS AND SUPPORTERS:
Thank you to all our supporters and cooperationspartners
Hamburg Kreativ Gesellschaft; Hamburger Kunsthalle, Jerwitz GmbH; Behörde für Kultur und Medien; Zentralbibliothek der Bücherhallen Hamburg; Dänisches Plakatmuseum in Aarhus, Christinetti
#anfachen_award
ABOUT THE ANFACHEN AWARD
2016 startete der Anfachen Award mit dem Thema "Frauen", im zweiten Jahr widmete er sich dem Thema "Toleranz", im dritten "Wohnen", im vierten Jahr "Wasser", im fünften Jahr "Demokratie"
und im sechsten Jahr den Themen "Natur" und "Menschlichkeit". Mit hunderten von internationalen Einreichungen, renommierten Jurys und einer einzigartigen Präsentation zunächst in Hamburg und dann in weiteren deutschen und internationalen Städten begeistert der Plakatwettbewerb nicht nur die Teilnehmer:innen, sondern vor allem das Publikum im öffentlichen Raum. Auch die breite Medienresonanz half dem Award von Anfang an dabei, gesellschaftspolitisch brisanten Themen erhöhte Aufmerksamkeit zu verschaffen.
RIGHTS REQUIREMENTS
The entrant making the submission, hereinafter referred to as the designer, declares with the submission of all materials that s/he/they is/are entitled to dispose of the submitted materials according to the following:
A) the designer declares his/her consent to worldwide and perpetual unrestricted publication of the motifs in print and electronic media, as well as the representation herein described in the context of exhibitions in public space as well as in galleries and museums.
B) the designer transfers the simple right of use to reproduce, disseminate and publicly make available and/or reproduce the motifs / materials submitted to the Anfachen Award, as well as the right to display the exhibits. Anfachen Award is entitled to transfer these rights to a third
party. Anfachen Award is entitled for purposes of refinancing the awards to use the transferred rights commercially, e.g. by sale of the motifs as posters, postcard fold-outs (these two forms of use limited to 3 years), and/or in the context of an exhibition catalogue.
C) the designer shall indemnify and hold harmless Anfachen Award from all claims made by third parties arising in connection with the transfer of rights or their use that may be made against Anfachen Award, and guarantees that the submitted works (text and image) are free from third party rights.